XPS, EPE, PET and film GRANULATORS
TORNADO S serries
| | | |
| --- | --- | --- |
| | | |
| Tornado-500 | Tornado-700 | Tornado-1000 |
&nbspModel
Rotor
diameter
mm
Rotor
speed
rpm
Drive
kWt
Weight
kg
Rotor
knives
Counter
knives
Capacity
m3/h
kg/h
&nbspTornado-500
500
1500
11
230
2
5
2-5
30-100
&nbspTornado-700
700
1000-1500
15
320
2
5
7-10
50-150
&nbspTornado-1000
1000
750
22
450
2
5
8-15
50-200
Application for crushers Tornado-500, 700 and 1000
Crushers Tornado series are used for granulating of light-weight waste: XPS (EPS), PET, Film. The most wide application for Tornado series is crushing EPS(XPS) into small balls, which are used as a filler for building industry. Also the effective usage is PET buttles - if you have not more than one tone per day to recycle Tornado series solution will be the most effective investment. Inspite of its small dimentions, Tornado series allow you to feed in unpressed buttles!

Tornado granulators are the most effective solution for EPS (XPS) granulating into instant balls, providing up to 15 qubic meters per hour. During 8 hours working day you may fill in by the granulated material the complete truck! Your customers are brick and cement factories.
| | | |
| --- | --- | --- |
| | | |
| granulated XPS | granulated EPP | granlated PPU |
Technical details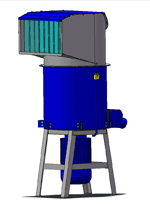 Vertical rotor rotation axis of Tornado series and special rotor design provide the maximum effective catch of the light-weight materials - they are not hanged under the rotor. High rotor speed, special turbulent guidance and the inclinated position of knives allow the material to be granulated very quickly - minimizing the time of its being inside of cutting chamber. Knives of the Tornado series are two sided to double its wearing out time until resharpening.
Benefits of Tornado-series
Simplicity of design and maintenance
Always present on stock
Different models for wide range of capacity
Universal for any type of plastic waste
High capacity range in comparison to other crushers' design
High fidelity and stability of design
Two-sided knives
Minimum energy consumption per kilogram of granulated material
12 months guarantee

That is the way we produce what you need.