MAGNETS and MAGNET SEPARATORS

How to avoid the metal in your material
We produce magnets, magnet separators and suspended magnetic systems (magnets and conveyors).\ Our solutions provide you the most effective way to guard your machinery from any ferrous-metal parts comming with materials inside. Magents and magnet systems apear to be the most simple and effective way to protect your machinery in most cases.

The problem of some metal contaminations is very important step in the safety of your production, quality and sales: starting from coins, bolts, metal scrap, particles of broken knives, watches, keys etc. (even inside of virgin material).
magnets
suspended magnets
(above conveyors)
magnet pulleys
(in conveyor)
Ferrit Magnets
Two-row magnets
Model
Diameter, mm
PSB 751700
170
PSB 751900
190
PSB 752200
220
PSB 752450
245
PSB 752960
296
PSB 753450
345
One row circle magnets
Model
Diameter, mm
PSD 150000
150
PSD 200000
200
PSD 250000
250
PSD 300000
300
PSD 350000
350
PSD 420000
420
One-row square magnets
Model
Size, mm
PSK 110130
110x130
PSK 120130
120x130
PSK 150150
150x150
PSK 150160
150x160
PSK 200200
200x200
PSK 230250
230x250
Star-magnet
Model
Diameter, mm
PSÀ 401500
150
PSÀ 401650
165
PSÀ 402000
200
Neodym Magnets
Neodym magnets have the strength of magnetic field 4 times more than ferrit ones. We produce it in a very short time and not only standart but any size and shape you need. In the table you may see some standart models.
NEODYM MAGNETS
Model
Diameter, mm
ÌÐ 150
150
ÌÐ 200
200
ÌÐ 250
250
ÌÐ 300
300
ÌÐ 350
350
ÌÐ 400
400
SUSPENDED OVERBELT MAGNETS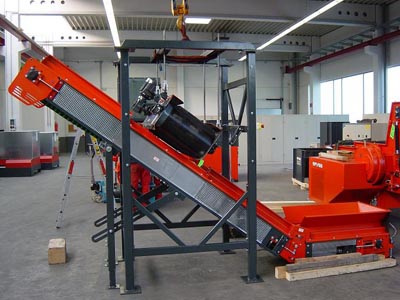 Overbelt magnets are usually suspended over conveyorbelts to remove any ferrous metals from the flow of the material. There are two types of suspended magnets: active and passive. The differense is the active overbelt magnets appear to be small conveyor with its own belt removing the matal parts away from main conveyor. Passive magnets just collect all ferrous metals on itself and need to be cleaned from time to time manually.
MAGNET DRUMS for conveyors
| | |
| --- | --- |
| | In case of material comming by a conveyor belt some ferrous contaminations may appear we may use magnet drum as the last roll of the conveyor. All metal parts will be catched and directed to special cilo or box by the magnetic field of the drum. We produce two tipes of magnet drum: ferrite and neodym. |